ADRIANA VELARDI

Inglese/English


Italian/Italiano
In this page found information on:
| | |
| --- | --- |
| | |
| | |
| --- | --- |
| | |
| | |
| --- | --- |
| | |
| | |
| --- | --- |
| | She graduated in Philosophy at the University of Bologna. She discussed her final dissertation in History of Philosophy about Near Death Experiences (i.e. NDE) and an innovative technique she named Prenatal Hypnotic Regression (RIP). She earned a PHD in Hindo-vedic Psychology (Ayurvedic course of studies) from the Florida Vedic College in Coral Springs, Florida, US. The College is an Independent Religious College accredited by the State of Florida and full member of the National Private School Accreditation. Her studies include Humanistic Psychology; Cognitivist Psychology; Hindo-vedic and Ayurvedic Psychology; Psychology of terminally ill patients' care; Bio-psychosynthesis (she is member of the Executive Board of the Italian Bio-psychosynthesis Association based in Bologna) and for more than 30 years she has been interested in phenomenons which are considered paranormal and she was accredited associate of the Centre of Para-psychological Studies (CSP) oF Bologna. |
| | She gave and continues to give, in different Italian cities, conferences and courses on Painting and Music addressed to self-observation; on Numerology; on Philosophy, Anthropological, Psychological subjects. Furthermore, she often takes part as guest or chairman into local and national radio and tv shows. She made a television column about Numerology on Telemontecarlo (TMC) today La7. She is also regularly invited as lecturer or teacher at national conventions and at public institutions. |
| | |
| --- | --- |
| | Velardi wrote many essays and articles on NDE and RIP phenomena. She also produced works on philosophical, anthropological, psychological, ayurvedical and numerological topics. One of her work on Numerology has been published by Mediterranee on 1991 - "Conoscersi con i Numeri" (To know yourself with numbers). |
| | |
| --- | --- |
| | She wrote fiction books and theatrical works that deal with topics in close relation with the researches she has carried out till now in the humanistic-philosophic, psychologic and esoteric field. |
| | |
| --- | --- |
| | She wrote and continues to write articles on important newspapers, national and regional magazines, such as: - Il Resto Del Carlino, La Nazione, Il Tempo, Aam Terra Nuova, Tra Terra e Cielo. |
| | |
| --- | --- |
| | Some persons wrote and mentioned her, such as: IL RESTO DEL CARLINO, LA REPUBBLICA, IL TEMPO, IL SANNIO, RIZA PSICOSOMATICA, PAOLA GIOVETTI (in Visto n. 52), IL GIORNALE DEI MISTERI, VIVER SANI E BELLI, TRA TERRA E CIELO, OSHOBA, rubrica "Mente e Dintorni", ROSITA CIMATTI, intervista all'interno della trasmissione "La telefonata" di Gianni Bisiac - RAI, Redazione di Roma, RAI1 TV, Uno Mattina, Saxa Rubra - Roma CARLA URBAN, TV Donna, TMC, today La7, ASTRA, SIRIO, ASTRODONNA, ART JOURNAL, RADIO CIAO, TELESANTERNO, RADIO CITTA' FUJIKO |
| | |
| --- | --- |
| | She is founder and President of Klären, Cultural and Philanthropic Association. |
Moreover, she is an acclaimed painter. Velardi developed a painting style aimed to stimulate the unconscious through the use of symbols, colours' harmonisation and their relationship with music.
Title: "Aum"
Colored Papers, Pastels, Water Colors
Canvas cm 80x100
| | |
| --- | --- |
| | Until 1991 she organized several personal exhibitions in different Italian cities; she carried out wall paintings in different Italian regions such as Lombardia, Campania, Emilia for the local Municipal Administration |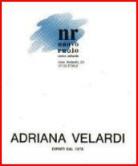 | | |
| --- | --- |
| | In 1983 on the occasion of the commemoration of the "Bologna (railway) slaughter 1980", one of her works was chosen to make the book cover and some memento postcards on which the P. T. (Post and Telegraphs) Administration put a special philatelic cancellation. |

| | |
| --- | --- |
| | Her works are used as covers for fiction books and artistic catalogues and we can find others in regional and municipal picture-galleries. |
| | |
| --- | --- |
| | In 1985 She collaborated in a research for the C.N.R. (National Research Centre ), as a researcher and employed in the graphic elaborations, entitled: "Analytical exam for a national policy of transportation for people with a reduced motor capability". |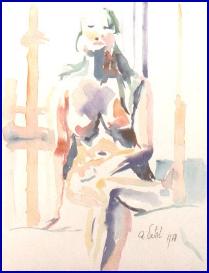 Title:
"Portrait of Sabrina"
Water colors cm 18 x 30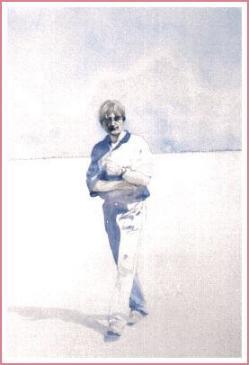 Title: "Portrait of Michele Dolci"
Water colors cm 80x100
RIP – Hypnotic prenatal regression
The RIP technique empathizes elements similar to the experiences you can find in the NDE cases and it is in this area where I give my important contribution to the NDE studies. My studies about the RIP technique began with the intention to make experimental my degree thesis¹and I get my inspiration from the studies of H. Wambach, R. A. Moody and B. Weiss.
I would like to point out that among the stories of life told by people under RIP, there are many important common points with those of NDE (as Wambach pointed out for the first time) like for example:
1 - OBE experience
2 - Tunnel experience
3 - Light experience
4 - Experience of a contact with unknown disembodied "creatures"
5 - Experience of a contact with Spirits of deaths Experience of the General Vision of own life Others
By using the RIP technique I mostly dedicated to the phenomena which came out when the hypnotized people say to come back to a previous life, live again a previous (?) death, all that happen during the passing away and after that.
My RIP-Scale questionnaire (inspired by the NDE-Scale's Greyson) give me the occasion to recollect a lot of data from which we can say that:
| | |
| --- | --- |
| | up to now all the people under RIP technique have described the separation from their physical body (OBE) and the Light experience; |
| | a lot of people have described the contact with light or bodiless "creatures", unknown or death people; |
| | all the people have lived again and analyzed all the most important aspects of their previous life (this is the General Vision of their own life you can find in the NDE) |
CONCLUSIONS
As regards RIP technique - on the bases of my personal experience - I don't agree with the thesis of some scholars who assert that people after a RIP experience have specific (and expected) inner changes. Even if you can repeat the RIP experience several times it is wrong to say that the probable changes of the hypnotized people way of life can be considered an expected and/or common phenomenon. Even if I don't fully agree with the reincarnational hypothesis and/or with that asserts that after the death, your consciousness (psyche or soul) survives forever, it is possible to say that the death of the physical body and of the consciousness happen in different time. People way of life can keep alive post mortem the consciousness part on an existential level that a great number of human beings cannot perceive. By accepting this hypothesis it is possible to explain the PSI phenomena as apparitions of the dead or mediumistic contact with them².
² - See my book "Psychical Art and Med Contacts", Klären Edition